Dental Sedation for Children
Posted by Stonegate Family Dentistry on Oct 27 2020, 03:06 AM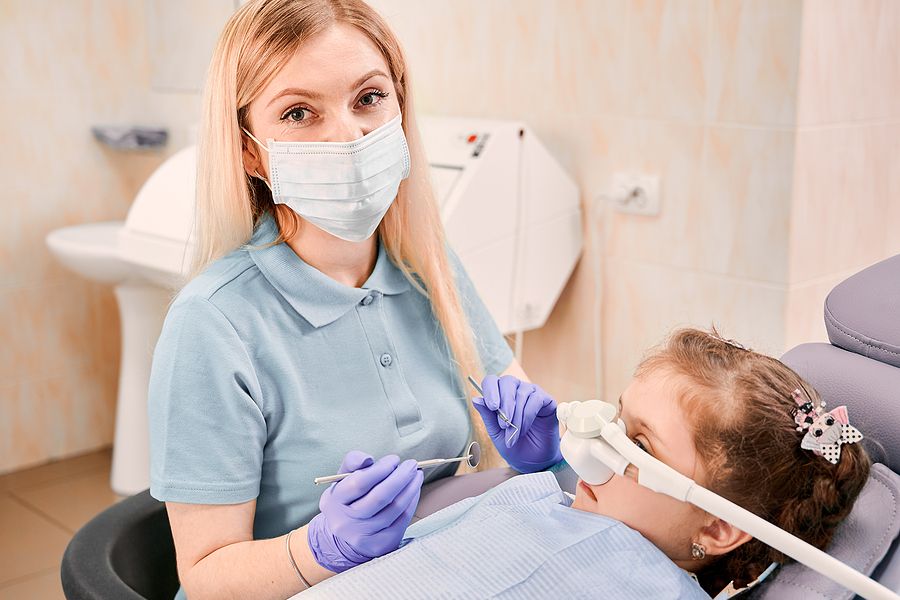 Dentists and some dental treatments can cause fear in children. This is usually due to apprehension about the unknown. Most often, dental fear in children tends to fade after they become accustomed to visiting the dentist's office.
In this article, our team at Stonegate Family Dentistry in Murfreesboro, Tennessee, explains more about dental sedation options for kids, as well as any potential side effects that parents should be aware of.
Types of Dental Sedation for Children
In dentistry, sedation is used to relieve pain and anxiety, allowing dentists to complete procedures and treatments more quickly. It is utilized in children's dental care to help them cope with their fear of pain while also ensuring that the therapy is effective. 
Below are the different types of sedation used on kids:
Nitrous Oxide 
Nitrous oxide, known as "laughing gas", is a safe, moderate sedative that will help your child relax during dental procedures and treatments. 
The anesthesia is administered by the dentist using a mask, which contains air (oxygen) combined with the drug. Your child will be asked to breathe via their nose rather than their mouth and the sedative will take effect in a few minutes.
Oral Sedatives
The dentist will prescribe an oral sedative for your child, which will provide mild to moderate sedation depending on the kind of drug and dosage. Oral sedatives may make the child feel sleepy but they will still be able to move and respond to the dentist's commands.
General Anesthesia
When procedures cannot be performed safely while the child is awake or laughing gas is ineffective, general anesthesia may be administered. Your child's vital signs will be monitored throughout the procedure and they will be in a state of deep sleep while under a general anesthetic. They won't be able to feel or recall anything about the dental procedure.
Side Effects of Dental Sedation
Parents must be aware of the potential effects that sedation may have on their children. This information might sometimes be the deciding factor when it comes to sedative alternatives:
Vomiting and dizziness are common side-effects of inhaling too much nitrous oxide.
After undergoing nitrous oxide sedation, some kids get sleepy. This is a mild effect that will recede fast.
In the case of general anesthesia, the child's nose, throat, and mouth might be numb for about 45 minutes. 


If you'd like to get more information on dental sedation for kids, contact Stonegate Family Dentistry at (615) 624-6919 or visit our office at 206 A N Thompson Lane, Murfreesboro, TN 37129.